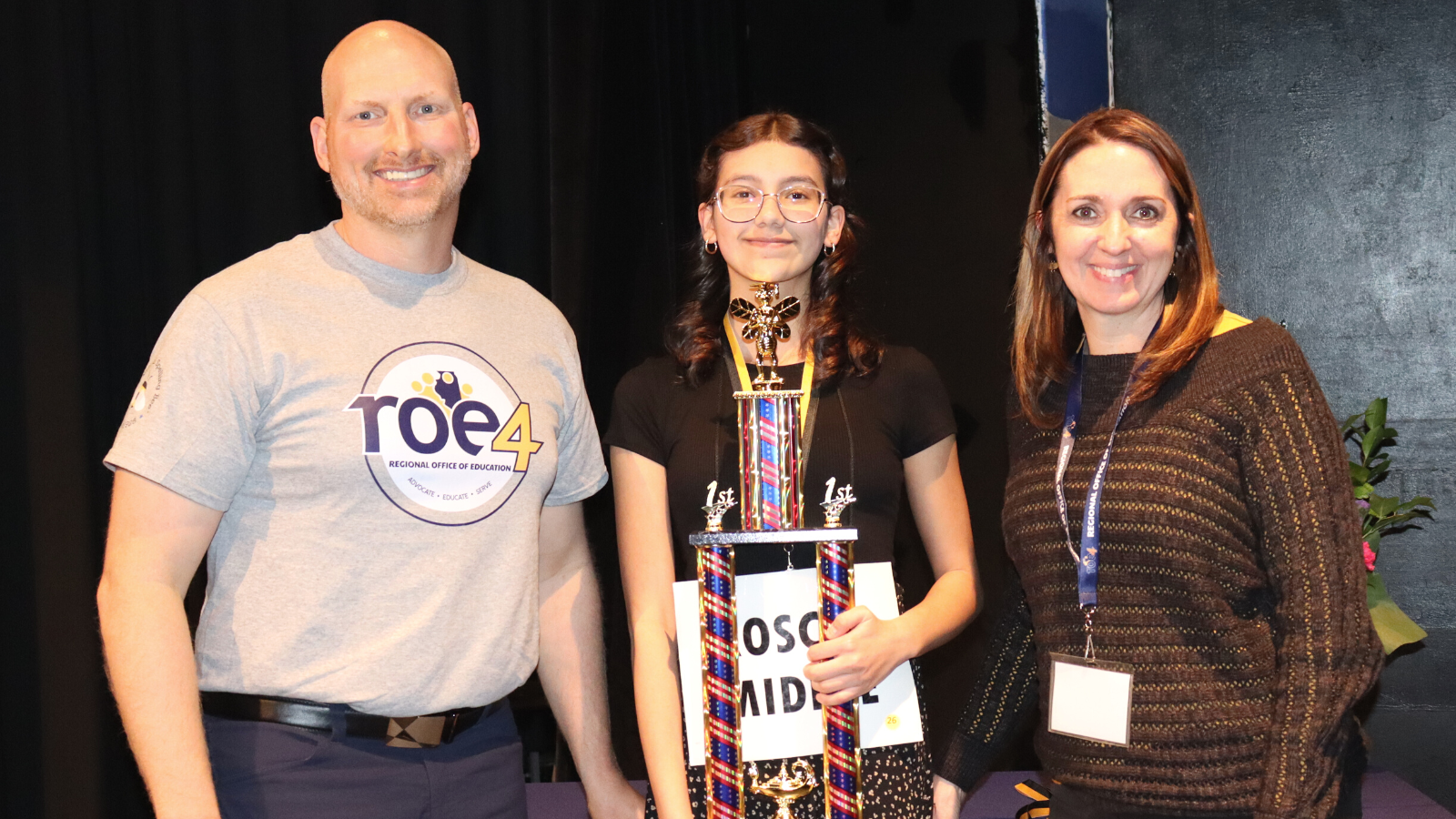 The Boone-Winnebago Regional Office of Education is happy to coordinate the Regional Spelling Bee each year. Participants who have advanced from school-level competitions compete and receive medals, with the top three regional winners receiving gift cards and trophies.
The most recent Regional Spelling Bee was held the evening of March 8, 2023, at the Harlem High School Auditorium.There was a 3-way tie for third place with those students each receiving a $100 gift card and a trophy for their hard work. First runner-up awards went to Chelsea Luengas Flores, who attends 8th grade at South Beloit Junior High School. Julissa Negron, 8th grader from Roscoe Middle School, was the final speller left standing at the end of the evening. She was named the Regional Spelling Bee Champion for 2023! Julissa received a $400 gift card, a large trophy, as well as other prizes in addition to the opportunity to compete at the Scripps National Spelling Bee in Washington, D.C., this year, a 6-night stay at the Gaylord Resort for her and 1 guest; and round-trip airfare for Julissa and her guest. Julissa had an impressive showing during the televised championship rounds in D.C.! Congratulations, Julissa!
Next year's Spelling Bee competition will begin with school registration, which includes a fee of $199 per school and must be received by Scripps by the January 31, 2024 deadline. Each school's spelling bee winner will participate in the Regional Spelling Bee with a chance to compete in the Scripps National Spelling Bee over the Labor Day holiday. The deadline for each school to submit their winner's information will be approximately one week prior to the Regional Bee. You can provide this by logging in to your www.spellingbee.com account.
The Regional Spelling Bee is generously sponsored by the Eunice Wishop Stromberg Spelling Bee Endowment Fund of the Community Foundation of Northern Illinois.
Visit www.spellingbee.com for information and details about the 2023 Scripps National Spelling Bee.
Please contact event coordinator, This email address is being protected from spambots. You need JavaScript enabled to view it., if you have additional questions.
Good luck, Spellers!