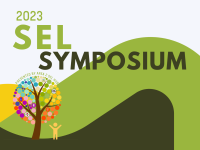 Join us at the Area 2 SEL Hub's 2023 Social Emotional Learning (SEL) Symposium. Discover new teaching strategies from our all-star lineup of regional and national thought leaders in the field of SEL.
National speaker and author Heidy LaFleur will set the tone for the day with her keynote, "Soaring Balloons and Heavy Shackles: Helping the Most Challenging Kids Soar". Then, participants will break out to their self-selected concurrent sessions. Each participant can choose up to four breakout sessions with topics including trauma-responsive practices, educator resiliency, well-being, culturally responsive teaching, whole-school safety, restorative practices, SEL classroom strategies, and so much more.
We've enlisted 23 recognized presenters who will offer noteworthy content in 29 workshops. These 60- to 90-minute breakouts will include vital ideas and resources to take back to your office or classroom for immediate implementation.
Please visit our EVENT WEBSITE for the full schedule, presenter information, and attendance details!
IMPORTANT: All breakout sessions are offered on a first come, first served basis. There will be no reserved seating for this event. Breakouts will be closed once room capacity has been met.